PT1 Hand Sanitiser regulation
Aqualution-produced hypochlorous acid is the only HOCl now approved in the UK for use as a hand sanitiser by the HSE. The Article 55 derogation by the HSE has been received for a number of Aqualution brands meaning that they are the only ones authorised to be sold in the UK. All other hypochlorous brands are being sold without UK authorisation.
What is PT1 and Article 55 and why is it important?
"PT" refers to "product type" and within the disinfectant market refers to five different uses and authorisations – see table below.
PT1 if for human hygiene. Products in this group are biocidal products used for human hygiene purposes, applied on or in contact with human skin or scalps for the primary purpose of disinfecting the skin or scalp.
Main group 1: Disinfectants
These product types exclude cleaning products that are not intended to have a biocidal effect, including washing liquids, powders and similar products.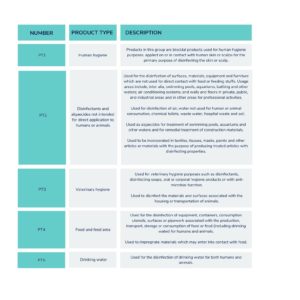 Due to the manner in which the BPR and UK BPR work, PT1 hypochlorous products require full authorisation or an Article 55 derogation prior to placing a product on the market.
Who authorises PT1 in the UK?
The Health & Safety Executive.
Who has PT1 in the UK?
Reviewing the current HSE list of authorised products, only products supplied by Aqualution are authorised with hypochlorous as the active substance. This includes our own brand SalvesanSalvesan Skin.
What does this mean for other hypochlorous acid brands?
Unless authorised by the HSE any hypochlorous acid brands should not be on the market in the UK as a hand sanitiser.
*For a full list of product types see ECHA's website.