AGRIPURE™
Hypochlorous acid for food disinfection and processing
Agripure™ hypochlorous acid is a revolutionary product in the processing of fresh food and for the care and treatment of crops. Our on-site, on-demand technology can be applied in bespoke ways to suit any produce and significantly improve efficiency and reduce costs and no detriment to the environment. Alternatively, Agripure bottled products are also available for disinfecting fruit and vegetables with no rinse necessary.
Our Agripure hypochlorous acid technology is being used around the world for the better, faster, safer and more environmentally friendly washing and disinfection of fruits, salads and vegetables for which we won the VIBES Hydro Nation Water Innovation Award in 2018 and were in the top 10 for the Best of VIBES in 2019.
For food producers it's not just about microbial pathogen kill. Our on-site, on-demand HOCl solutions, because they do not generate harmful disinfection by-products, facilitate the ability to recycle the wash water, enabling a reduction in water usage of up to 80% and also significantly reduces electricity usage, creating significant cost and labour savings, as well as an improved environmental impact. This recycling system effectively turns produce decontamination from a batch process into a continuous flow process, so productivity is much improved. This use of HOCl and our work with growers and processors in the UK, Europe, USA and Africa has made significant environmental improvements and financial impacts.
To understand why M&S choose our Agripure hypochlorous acid technology read more here.
BENEFITS OF ON SITE AGRIPURE USE:
Reduced use of chemicals

Reduced electricity usage

Uses up to 80% less water

A continuous flow process that recycles all water

Kills 99.9999% of bacteria and 99.99% of viruses present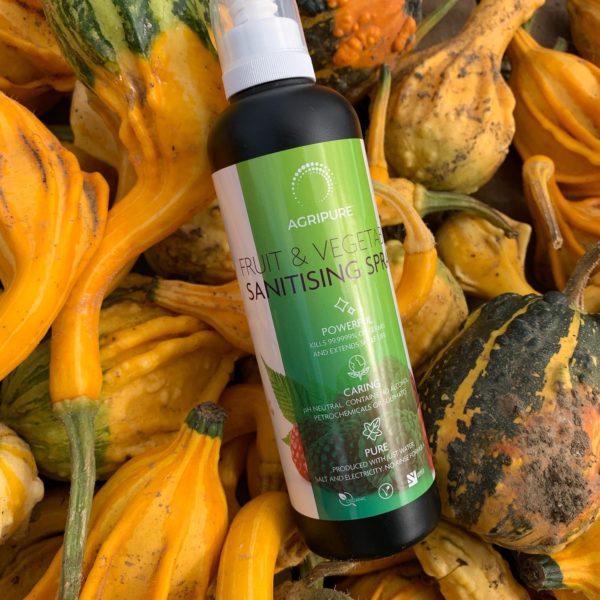 AGRIPURE FRUIT & VEGETABLE SANITISING SPRAY
Our hypochlorous used and trusted by leading retailers such as M&S and Waitrose has now been bottled to give the same trust and confidence in homes, professional kitchens and for use in retail.
Bottled Agripure comes in a 250ml bottle with an eco-mist nozzle for a finer spray as well as a 5L drum for produce washing.
Kills 99.9999% of bacteria and 99.99% of viruses including Covid-19
Can also be used on any surface such as chopping boards and cloths
Extends shelf life
Made from pure hypochlorous acid
No rinse formulation