Salvesan Skin hand gel used by the NHS for booster vaccinations clinics
Salvesan Skin hand gel used by the NHS for booster vaccinations clinics

Sector:
healthcare
Region:
uk
Product:
salvesan
Salvesan Skin gel has been at the forefront of keeping patients safe in Wiltshire. Sarum Cathedral Primary Care Network, made up of Harcourt Medical Centre and Salisbury Medical Practice, has been using Salvesan Skin hand sanitising gel in both its practices to help in the fight against the spread of Covid-19.
Only available as a liquid up until now, the team at Aqualution has been able to harness the power of hypochlorous acid into a gel making it easier to dispense and giving end users a format that they are used to with all the same benefits and efficacy as liquid hypochlorous acid.
Rebecca Morris, Operations Manager for Sarum Cathedral PCN chose Salvesan Skin for the clinic over alcohol gel for a number of reasons; "I have been aware of and working with hypochlorous acid for over 20 years. I started my career as a dental nurse where hypochlorous acid is used for both surface and skin disinfection but is also used in dental water lines and has also been authorised as a CE-marked mouthwash. Aware that Aqualution is the market leader in hypochlorous acid, when they launched a hypochlorous hand gel I approached them to supply product for our booster clinics."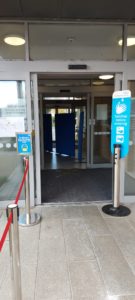 Seeing over 1100 patients a day Sarum Cathedral PCT needed a delivery system that would be robust and a product that would be effective. This resulted in Salvesan Skin hypochlorous hand gel being dispensed via Gelpoles, both supplied by PPE Defends, to over 25,000 patients in October and November who were attending the clinic for their Covid-19 boosters.
The benefits of Salvesan Skin over alcohol are clear. As it is pH neutral and dermatologically tested it is non-irritating to skin and actively cares for skin whilst being hypoallergenic and moisturising. Being alcohol-free doesn't mean any less effective; Salvesan Skin has been tested to the same rigour as alcohol gels and is proven to kill 99.99% of bacteria and 99.9% of enveloped viruses. It has been fully approved by HSE as a skin disinfectant, Halal certified and has none of the side-effects of alcohol based products.
For Rebecca the benefits were clear. "Salvesan doesn't dry the skin like alcohol and it was important for our patients but also our staff that we were using a product that was effective but was as kind to the skin as possible."
The benefits go beyond it efficacy and skin care qualities. Research has shown that in the UK alone, alcohol-based hand sanitiser poisonings reported to the National Poisons Information Service (NPIS) rose by 157% between 2019 and 2020, from 155 (January 1 to September 16) to 398 (January 1 to September 14) and this will have increased even more in the most recent 12 months as more and more product has been in use. Worryingly the public is largely unaware of the potential safety hazards of this form of hand hygiene, which has become commonplace in homes, hospitals, schools, workplaces and public venues in the wake of the coronavirus pandemic.
Sarum Cathedral PCT is now looking at the potential of rolling out hypochlorous acid in other areas of their practice. Hypochlorous acid is used widely in fogging machines across the NHS to quickly and safely disinfectant providing a 6-log reduction in pathogens in far less time than HPV, bleach or quat products.
For more information on fogging HOCl in the NHS click here: NHS Hospital Salvesan Misting Case Study
For more information on HOCl as an alternative to bleach click here: EWASH hypochlorous acid trial: Nigeria
To view the Salvesan range of products click here: Salvesan Skin
---